In the center of New Brunswick's
BIG GAME WILDERNESS
over one million acres of hunting area

>>> SPECIAL <<<
Ask about the 20% DISCOUNT on our 2020 Spring Bear hunt.
HUNTING AGE for DEER, Spring & Fall BEAR & BIRDS 16 yrs of age & 18 for MOOSE!
Legal age (includes age 12 for small game when accompanied by an adult).




We have openings for the 2020 Spring and Fall bear hunts




... and remember, a second bear license is available each year.
Welcome to our 4 Star Lodge (licensed and graded by the Prov. of NB) where you will experience the thrill of hunting for Moose, Deer, Spring and fall Black Bear, Grouse, Woodcock and Coyote.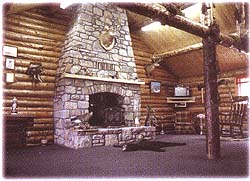 Our Deer, Bear, Bird Hunting or Coyote Packages include your guide, delicious home-cooked meals, 6 nights accommodation in our comfortable lodge, gate fees and transportation to & from the hunting area. Licenses and Taxes are extra. Licenses are available on site. We hunt on 2,000 square miles (5,000+ sq. Km) of controlled-access land. Grouse, Woodcock and Duck hunting is excellent. Our success rate runs from 80-90% for Black Bear!

We offer exclusive bear baiting rights on the largest private hunting area in the province.

In our bear baiting area many Bear are taken in the traditional "Boone" and "Crockett" class each year. Our bear licenses are allocated and we will guarantee you a bear license.

Our Moose hunts are by random draw, and include a one-on-one guide, delicious home-cooked meals, 5 nights accommodation in our comfortable lodge, gate fees and transportation to/from the hunt area. Taxes and License are extra. Your license is purchased from the Province at the time of your successful draw. Our success rate for Moose hunting averages 90%

We offer fishing for Smallmouth Bass and Speckled Trout in rivers and streams. This is not offered as a separate "package" but unguided fishing is available for spring bear hunters. New Brunswick boasts the best Trout waters in the east and we now lease Dead Water of 3 brooks which provide excellent Speckled Trout fly fishing!

To see where North View Hunting & Fishing Lodge is located, rates, season dates and directions to our lodge from the US, Visit our "Map and Dates & Rates" Page. For photos, visit our Photo Gallery page.


---
North View Hunting & Fishing Lodge
240 North View Road
North View, NB, Canada
E7G 2K1
Tel: (506) 356-7212 * Toll-Free: (866) 356-7212


E-Mail us at:nvlodge.nb@gmail.com



BOOKMARK our address www.northviewlodge.com







Page Revised December 8th 2019
This maintained/designed by


Web Hosting Services